Are you looking for the perfect hen housing? Look no further than the Nestera Coop! In this Nestera Coop review, we will uncover its sustainable secrets that will provide your feathered friends with a healthier and happier living environment.
As poultry parents, we've got a serious responsibility to provide our flock with the cosiest, safest, most comfortable abode known to chickens. There are so many things to consider – from how much space they need, to security from predators and wildlife, to infection and pest control – and, of course, if you're like us then sustainability and the green factor is a big deal too. When it comes to purchasing decisions, we're firm believers in choosing products that not only cater to our and our chickens' needs but also roost hand-in-wing with our core sustainability values.
In this blog, we're sharing our personal experiences of finding a hen haven that resonated with our principles and ethos and checked all our other boxes.
It was a tall order! But, ultimately, our adventure led us to Nestera – a brand that champions sustainability and aligns with our eco-friendly approach. So, not only will we uncover the secrets to the perfect chicken coop (in our opinion), but we'll also present you with our review and hands-on experience with Nestera's delightful products.
This isn't a sponsored review – it's simply our honest experience with an awesome brand!
Table of Contents
Finding the Coop that Checks All Boxes
The search for the perfect coop isn't easy. In fact, trying to track it down is almost as tricky as capturing a runaway hen (as we've learned!)
We need to ponder a ton of factors:
Size Matters: Just right for your flock size, not too big or too small.
Sturdy Structure: Can withstand weather, from summer sizzle to winter wonderland.
Tidy Hen House: Easy peasy to keep fresh and cosy for your girls.
Easy on the Eye: For many of us garden aesthetics are still a priority!
Let's be honest – just because we have chickens doesn't necessarily mean we want our garden to resemble a farmyard. There's nothing wrong with one that does! -But we hoped to be proud chicken parents whilst still enjoying our beautiful garden whilst sipping G&Ts on a balmy evening. (And now we have an added charm: the cheery clucking of very sweet hens from a stylish, black coop and run designed to blend beautifully with our home and garden.)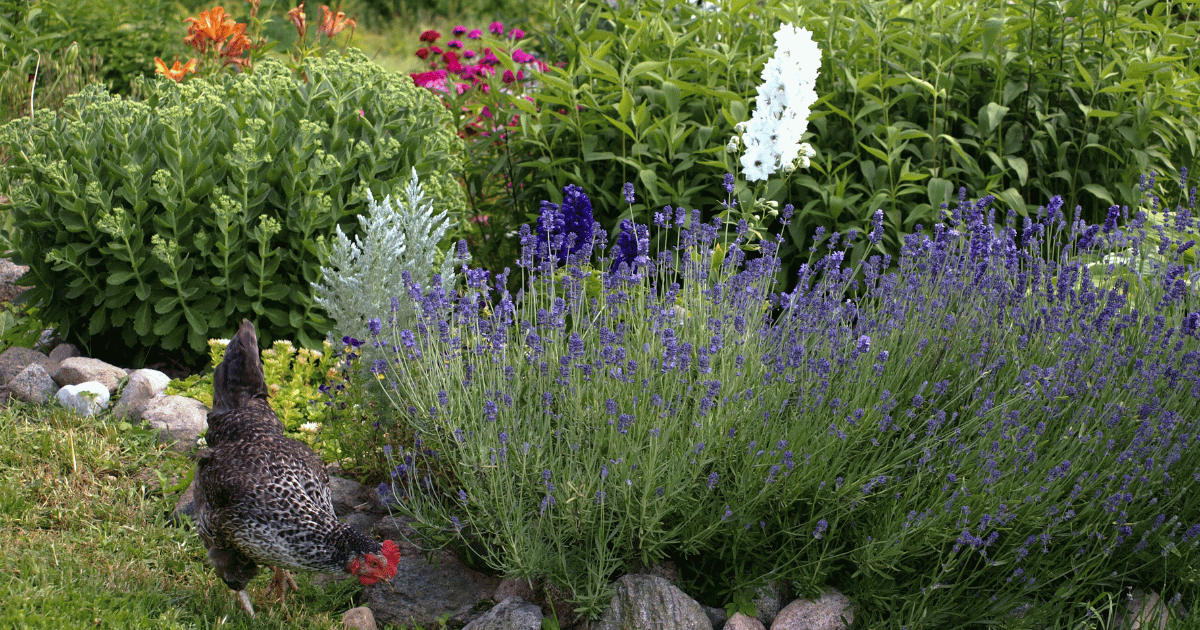 So, our quest for the perfect coop led us to English Country Life, a website dedicated to living a simpler, sustainable, and self-sufficient life. English Country Life had a feature on Nestera, a hen housing company that caught our attention.
Why Nestera stood out?
Two main reasons directed us towards Nestera.
First, the company's green credentials wonderfully resonated with our eco-focused vision here at ECOnourish. The coops are made from 100% recycled plastic, promoting a sustainable and environment-friendly approach to chicken keeping. That's what we're all about!
Second, we were drawn to the positive feedback surrounding Nestera's ability to keep the dreaded red mite at bay – a common poultry nightmare we'd rather avoid.
Red mite – avoiding the poultry peril
Imagine an unseen villain, creeping out of its hiding hole under cover of darkness and causing chaos in your beloved chickens' lives. Yep, we're talking about red mites, the notorious poultry peril! These tiny critters, hailing from the Dermanyssidae family, love to sneak into your coop's nooks and crannies to feast on your flock's blood… The stuff of nightmares.
Itchy Impact on Chickens
Red mite can make chickens (and their human families) pretty miserable and uncomfortable. They can also lead to anaemia and a reduction in egg production.
Wood, although a good insulator and relatively more sustainable than plastic, is an ideal nesting ground for red mites. You can treat wooden coops with things like creosote and other pesticides to help protect against red mite, but we're pretty conscious of pesticides' impact on the environment and animal and humankind. We believe that using natural products like diatomaceous earth (DE) is a much safer way to keep red mite at bay.
But, instead of wood, we went for plastic.
Choosing plastic materials over traditional wood for chicken coops might raise a few eyebrows, but there's some eco-friendly logic behind it. Plastic design helps thwart unwelcome visitors (we're looking at you, mites), keeping your chickens happy and healthy.
But hang on, we know what you're thinking—aren't plastics the pesky enemies of our planet? That's why we're big fans of 100% recycled plastic for our hen housing. No new plastic production, no guilt on our green consciences, and we still get top-notch coops for our cherished chickens!
Nestera Coop Review: A Closer Look
We opted for Nestera's medium Lodge Model, £445, which is large enough for five to nine hens and therefore perfect for our four bantam hens – giving them plenty of space.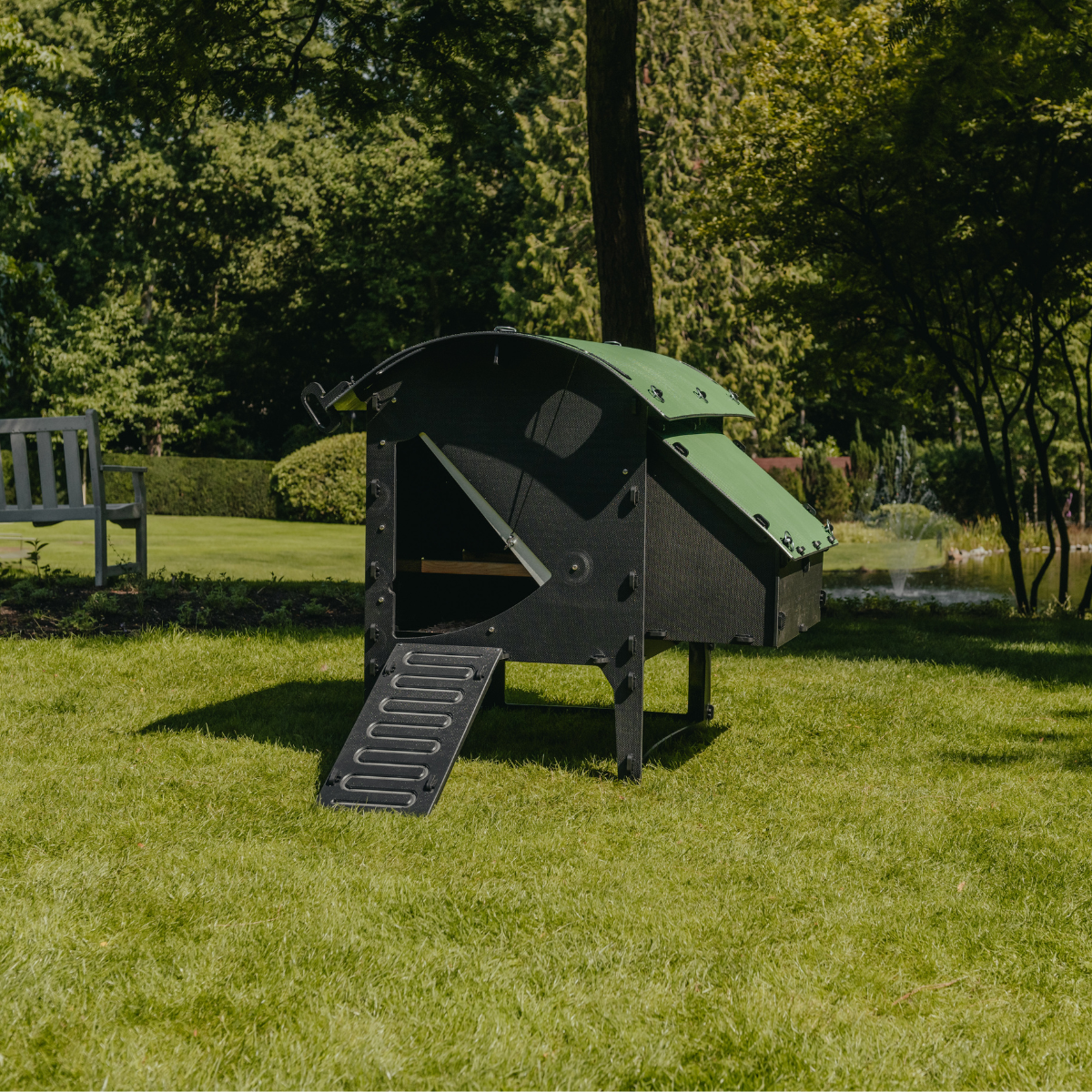 Eager to satisfy our garden aesthetic needs, we found the coop's classic design nestles right in and sprinkles charm on our lovely green haven. What's more, our feathered friends seem to enjoy the jolly game of "Whose Turn on the Perch?" thanks to two superbly positioned, handy perches. Win-win, we say!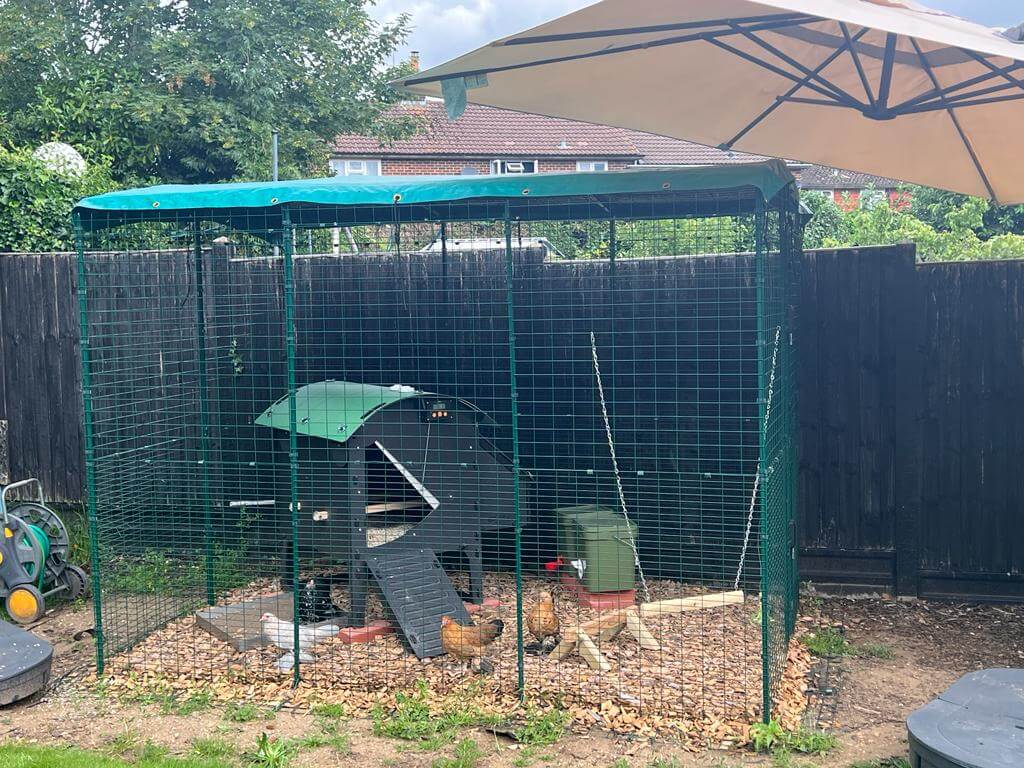 High-quality design for all weather
We opted for the raised Lodge model as we wanted to treat our hens to a snug, safe haven tucked away from the elements. We must say, it's come to the rescue already. The raised design gives th hens a secure, dry, covered space to shelter from the rain AND the sun. This has come in handy recently, keeping them both dry and warm and cosy and cool amid the highs and lows of the Great British Summer.
Here's a concern we did scratch our heads over: A predominantly black coop (though the roof is a lovely green) soaking up the sunshine on a scorcher of a day? Nestera luckily did their homework. Their research suggests the temperature of their coops barely flutters 2-3 degrees higher than a wooden coop. That's less sizzle and more of a simmer than we'd anticipated. And, given how well-ventilated the coop is this wasn't a deal breaker for us. Still, our trusty parasol will be standing at the ready to provide some shady relief for the coop during those hot months.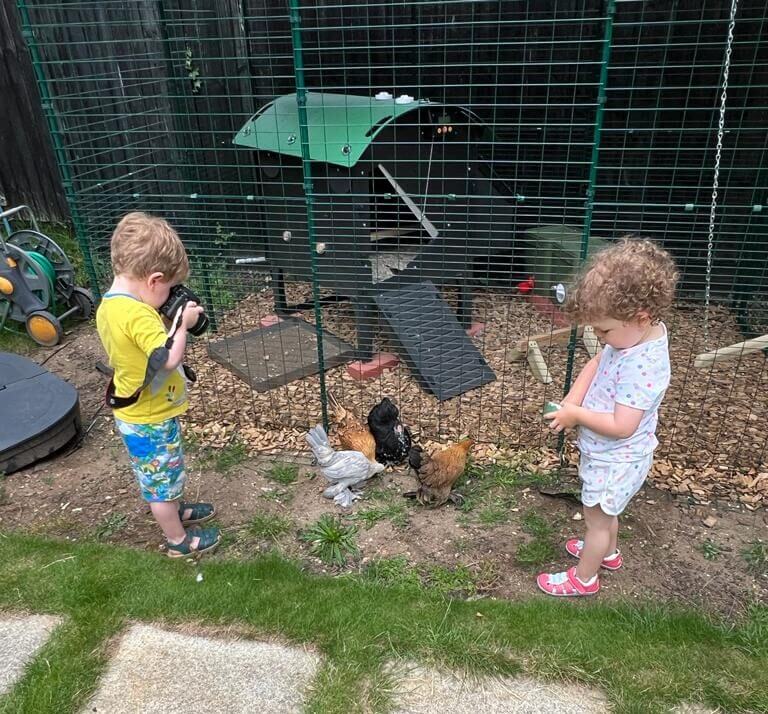 User-friendly perks
Nestera's user-friendly design is truly something to crow about! With a quick unclip of two secure fasteners, voila – you gain full access to those precious laying boxes. And just to make life less tricky, we opted to add on two trays for easy cleaning. Let's face it, rooting around in bedding isn't anyone's favourite chore, but these handy trays make it a breeze.
Another aspect we must mention in this Nestera coop review is the ramp for the hens to access it. It's not a ladder- it's a solid, grooved ramp. This makes it easy for our young hens to get in and out, and should also help them in older age, too.
For that extra touch of convenience, we opted for the auto-closing door unit. Sleek and simple to install, this nifty feature makes for a respectable when it's time to head in to roost.
We also decided to bring in a touch of technology with a coop camera! Although we've yet to install it, our plan flutters around nocturnal vigilance, keeping a keen eye on the twilight antics of any unwanted prowling predators.
A refreshingly well-thought-out build experience
Building the Nestera coop was easy. We roped in two of Paul's older sons to help construct it – though this may have resulted in adding to the build time, to be honest… Even if it did add time, it was fun family time – so that's always a winner.
The coop came with very clear instructions, was well-made and a lot of thought had obviously gone into considering the end-user. You can't say the same for many flat-packed products!
Here's a timelapse video of us building the coop. We make it look FAR more complex than it is, somehow… But we had great fun and earned a hearty family supper afterwards!
A Coop that Stands the Test of Time
No one fancies splashing out hard-earned cash on a flimsy coop that crumbles at the peck of a beak, right? Fortunately, Nestera coops offer both quality and durability—a superb combo to ruffle the feathers of any chicken enthusiast! With a rock-solid structure, they lovingly offer a 25-year warranty, surely clucking up confidence and peace of mind in your decision!
An engaging community and customer support
Let's cluck a bit about the icing on the cake – Nestera's engaging community and hen-customer support. When we weren't feasting on the feed of handy tips right from the Nestera website, we found ourselves flocking towards the wealth of inviting reviews on English Country Life's website. Plus, we engaged in delightful chit-chat with other chicken keepers on Nestera's community platform.
Our experience with the Nestera Coop has honestly been delightful, and trust us – our lucky ladies seem to be chiming in with chirpy squawks of approval!
The Nestra Coop is a Sustainable Choice for a Brighter Future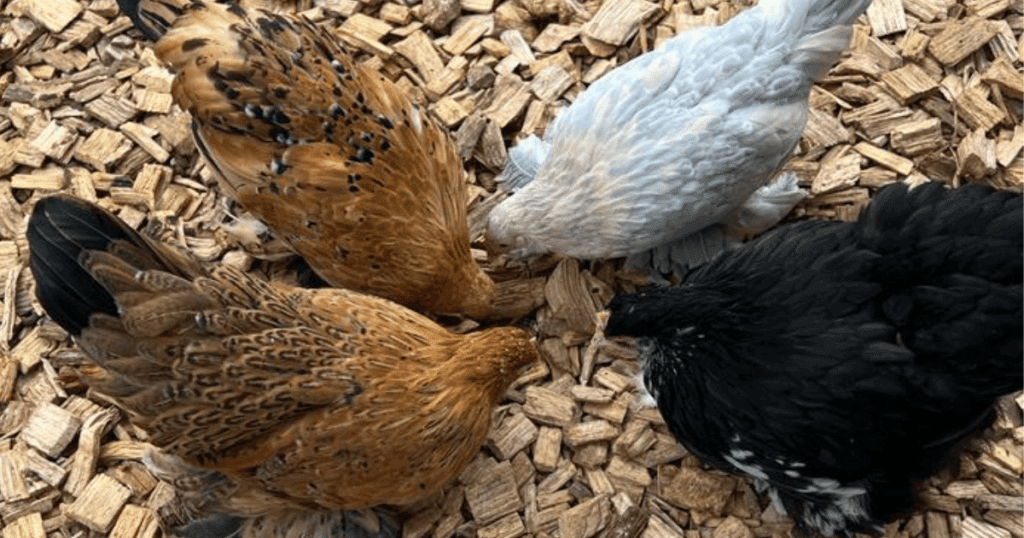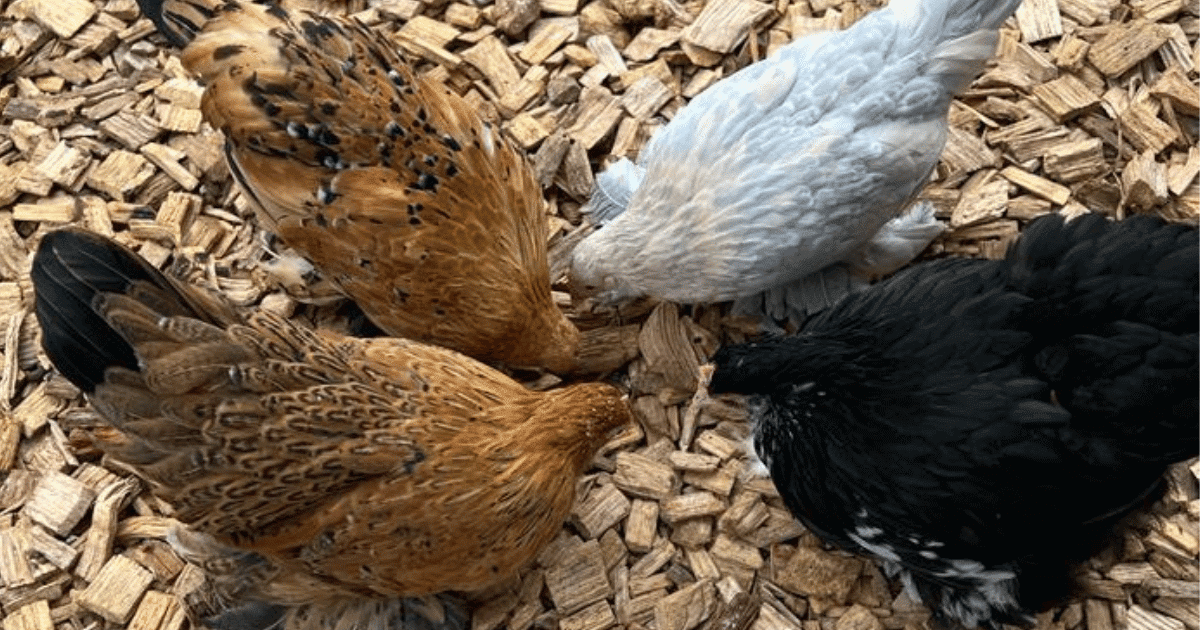 Here at ECOnourish, our chicken escapades go far beyond a personal pursuit. And our choice to bring a Nestera coop into the family roost certainly reflects that. That's because Nestera's coops not only nurture our flock but also help cultivate a more sustainable world – just like ECOnourish.
Every little eco-friendly step we take shines a bright light towards a bolder, greener future. So, dear backyard chicken keepers, wear your green hearts flamboyantly, for every sustainable choice helps create a world where our hens can safely peck about and proudly call their own.
We'd love to hear about your experiences with chicken housing – Nestera or other brands, below. What are your recommendations and tips?